15 Smart Dollar Store Ideas To Declutter Your Kitchen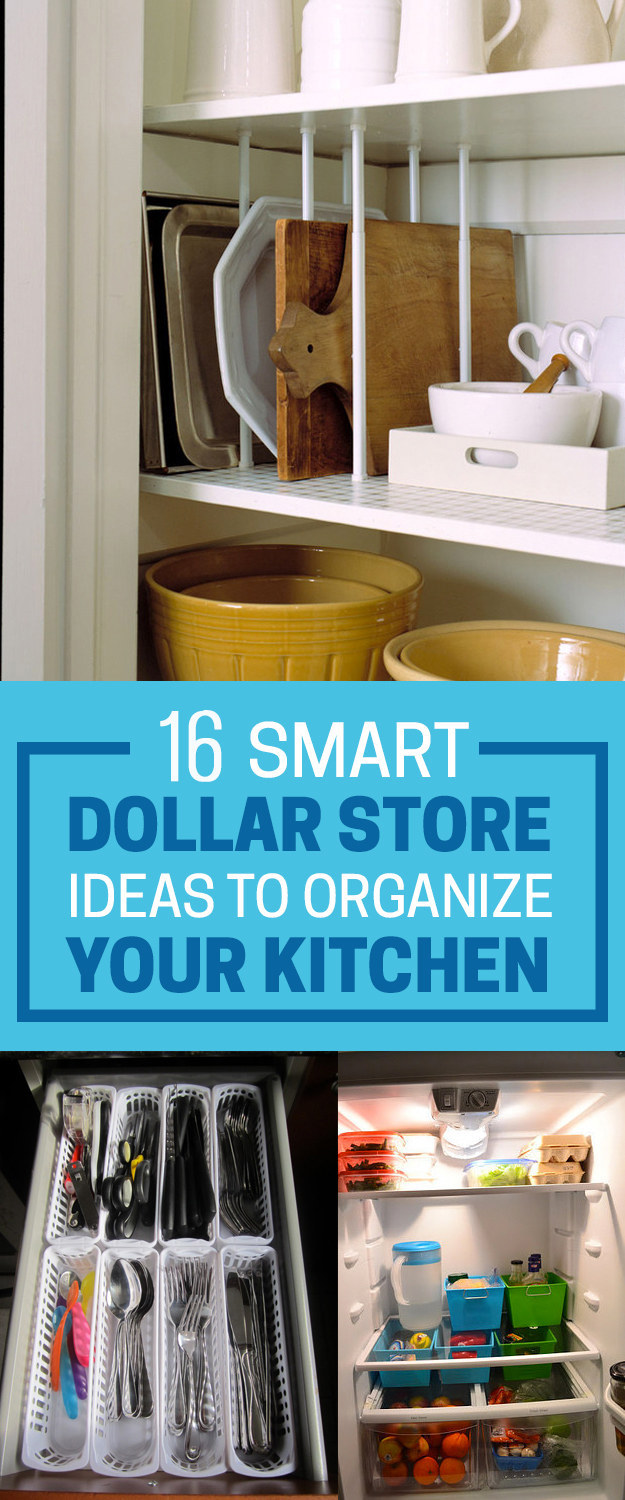 Amy Sefton / BuzzFeed
1.

Organize your fridge with a few small bins.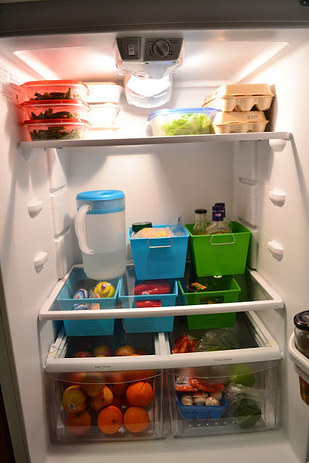 It's pretty straightforward, but you can read more about how this mom organized her fridge 
2.

Then employ bins in your pantry, too.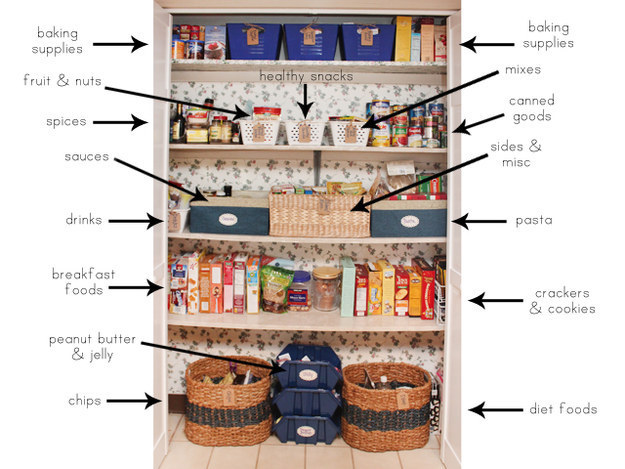 Read more about this zone-method for organizing your pantry
3.

Use small baskets to clean up your cutlery drawer.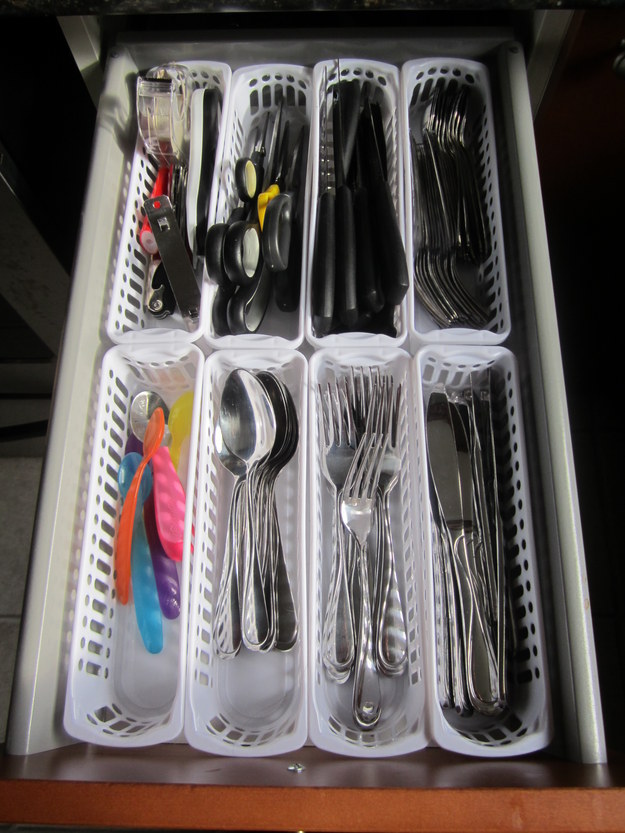 4.

This also works for rounding up everything from tea to Tylenol.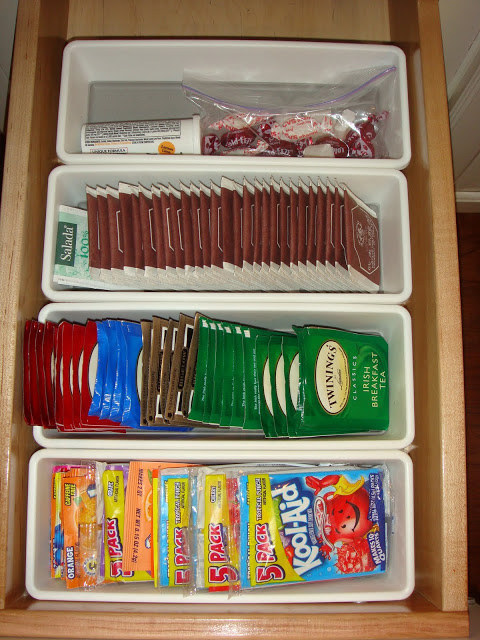 BINS AND BASKETS ARE JUST REALLY HELPFUL, OKAY? 
5.

Use tension rods to store your cutting boards and baking sheets so they're easily accessible.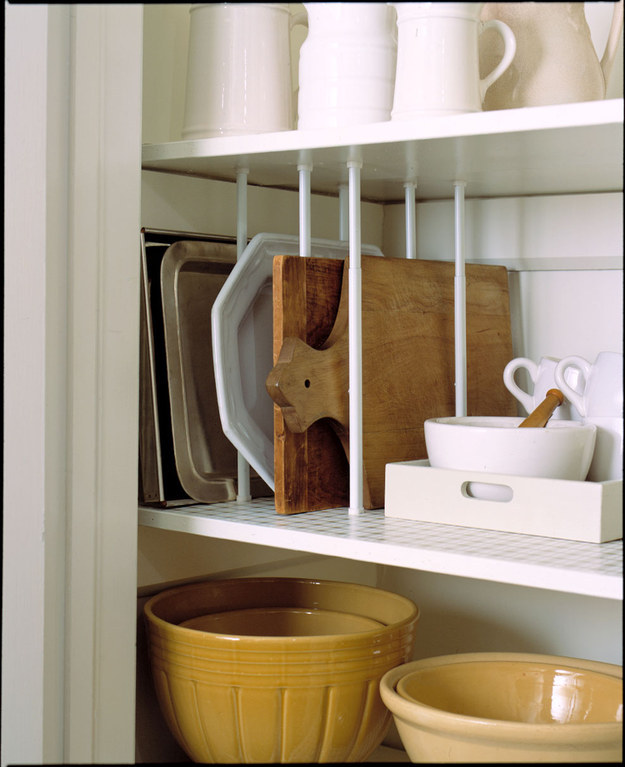 Photo by Monica Buck. Courtesy of Martha Stewart Living. 
You'll be able to see and easily reach everything you have. 
6.

Or buy a basic wire rack and some zip ties to keep them on the inside of your cabinet door.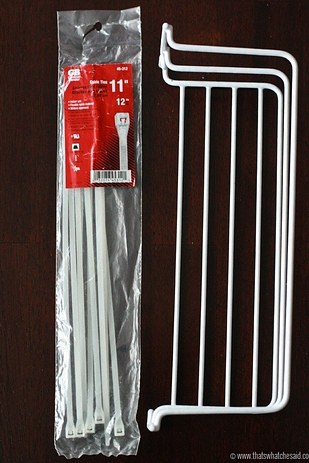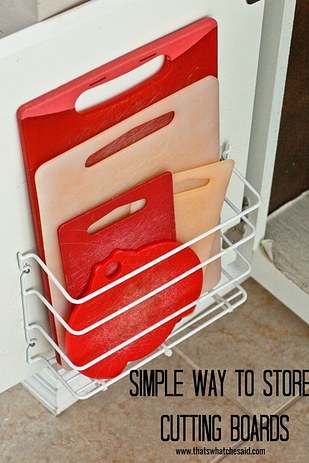 See the tutorial — the blogger got both the organizer and the zip ties at Dollar Tree. You'd have to have the space in the front of your cabinets to have a wire rack there, of course.
7.

Then use magazine files to hold your placemats and paper goods.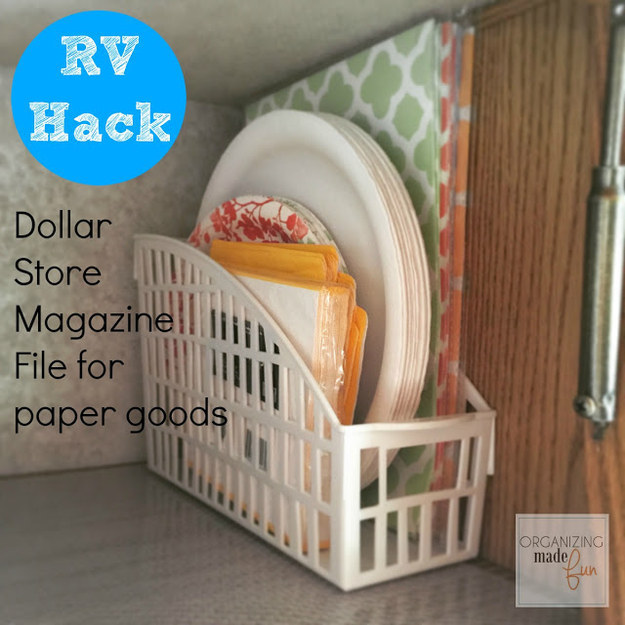 8.

Pick out some small baskets for canned food organization.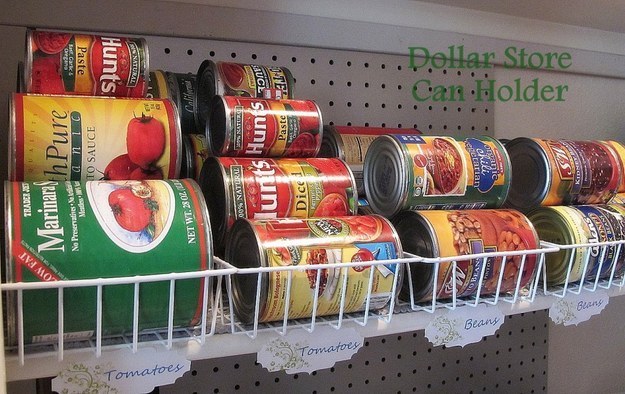 Then label them according to type.
9.

Go hardcore Pinterest and transfer all of your dry goods to matching glass canisters.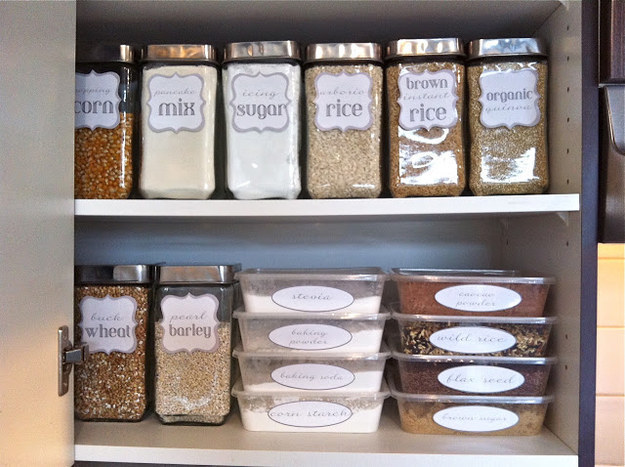 Yes, they do sell these at the dollar store! 
10.

Line your drawers with inexpensive (non-seasonal) gift wrap.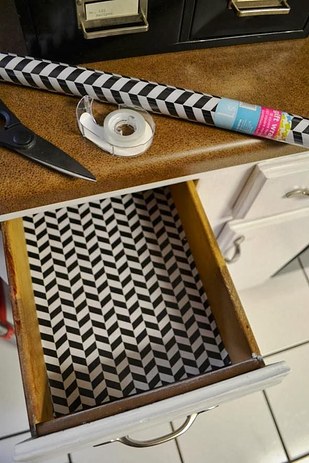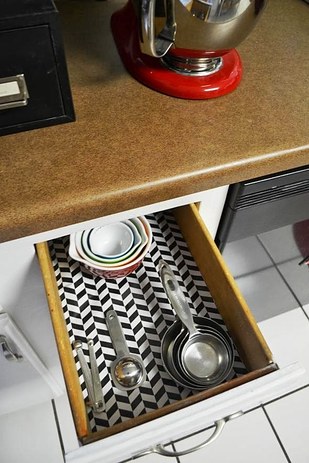 Sure it's not a ~permanent~ solution, but it's a cute way to decorate your kitchen, and protect the bottom of your drawers. And it's easy enough to swap out (or remove completely) if you get tired of it or if it gets torn or dirty. 
11.

Pick up a binder to house all of your favorite recipes.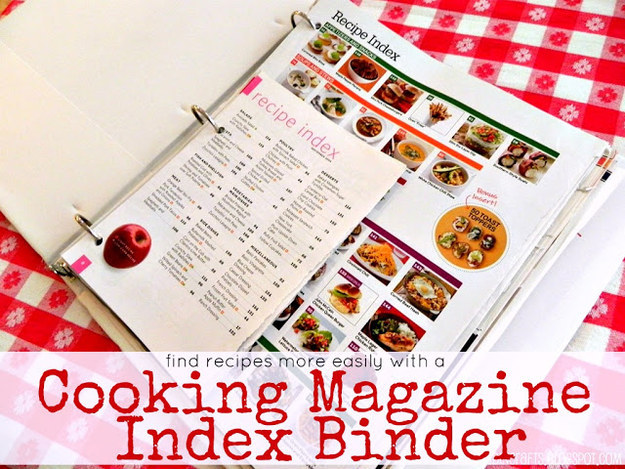 Or, as someone does, to house the recipe indexes from your collection of cooking magazines.
12.

Attach magnets to small plastic baskets to make a nifty spice rack that fits on the side of your fridge.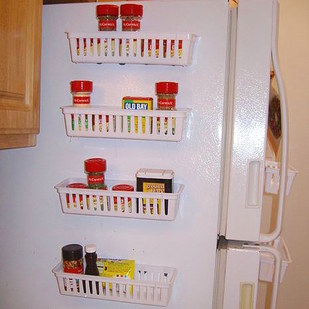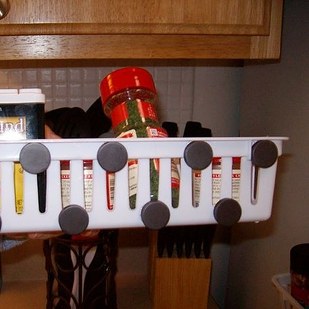 You could also use removable hooks to hang them on a wall, if the side of your fridge isn't available. 
13.

Pair s-hooks with binder clips for some simple pot storage.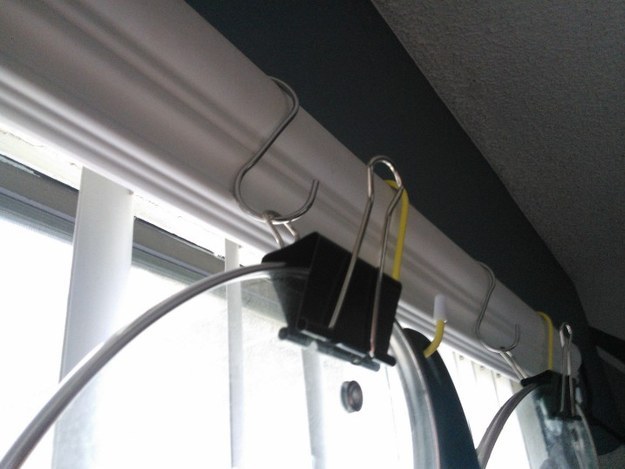 14.

Get a few self-adhesive hooks to make an easy-grab station for your measuring spoons.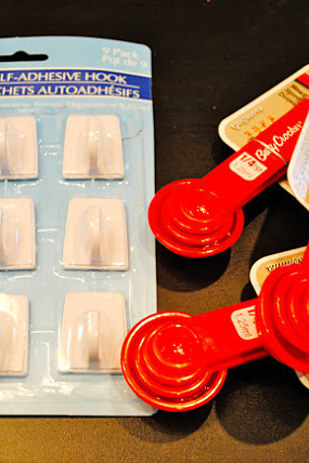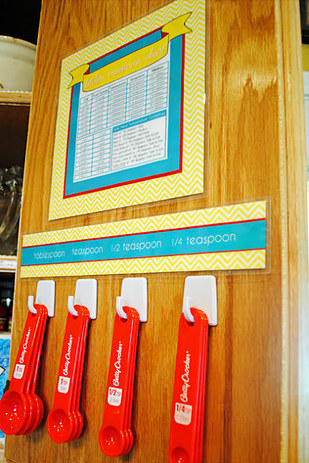 Especially good for frequent bakers. 
15.

Line your refrigerator shelves with (off brand) wax paper, plastic wrap, or cling film.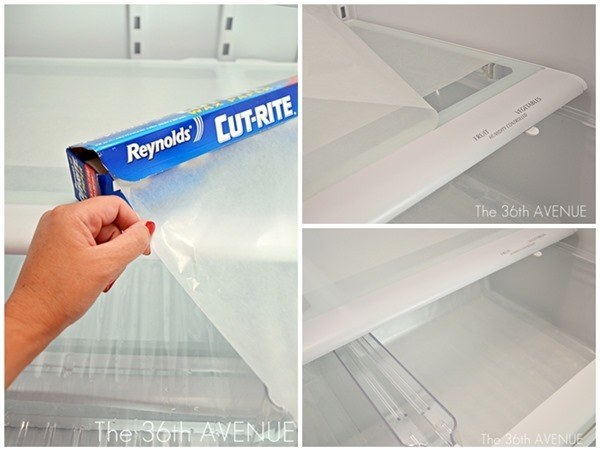 It'll make those inevitable spills and sticky spots extra easy to clean up. Read more about how to deep-clean your fridge .
16.

Cover leftovers with shower caps.